Collation of some of the information provided via @NonStopNewsUK's research and communications provision to support individuals and organisations. More detailed provision can be found on their websites. Key links published in these channels which are likely to be of use wider will also be added to this section on this website.
Timeline of coronavirus 2019 to date
11 March 2020: Confirmed as pandemic by WHO
7 March 2020: WHO statement on cases of coronavirus surpassing 100,000
January 2020: The spread of the new coronavirus disease was declared a global health emergency by the World Health Organization.
The NHS in the UK moved to its highest level for emergencies, national incident response level 4. This move was to increase preparation for a potential outbreak.
31 December 2019: China reported to the international community through WHO that it had unusual pneumonia-like cases.
Wikipedia's article on the coronavirus timeline
Coronavirus reaches pandemic
The World Health Organization (WHO) confirmed coronavirus had reached a pandemic on 11 May 2020. In its press conference of that day it gave a detailed explanation of what this means
Dr Tedros Adhanom Ghebreyesus, Director General of the WHO, said: "Pandemic is not a word to use lightly or carelessly. It is a word that, if misused, can cause unreasonable fear, or unjustified acceptance that the fight is over, leading to unnecessary suffering and death.

"Describing the situation as a pandemic does not change WHO's assessment of the threat posed by this #coronavirus. It doesn't change what WHO is doing, and it doesn't change what countries should do."

World Health Organization
The WHO's press conference summary is segmented into Tweets in a thread. Each has a social media graphic to help with messaging and reuse by other communications teams. View the @WHO Twitter thread.
Public health statistics relating to COVID-19
Data tools
https://www.gov.uk/government/publications/covid-19-track-coronavirus-cases
World Health Organization – Health Emergency Dashboard
Situation Reports, World Health Organization
– these are regularly updated by the WHO.
– Report on 17 March 2020, shows epidemic curve of cases by date of report and WHO region.
Situation Dashboard for the European Centre for Disease Prevention and Control
– updated daily
– can be searched using time period filters
More on this can be found on the COVID-19 page and UK daily statistics are updated on the CIPR's LPS resource for communicators. This also has links to Government statements and other materials.
The public health facts
Let's prevent social stigma
The World Health Organization with UNICEF and CIFRC have produced a document to help communicators, media and governments to be aware of and take action to reduce any social stigma which becomes associated with COVID-19. Document from WHO (PDF opens in a new window).
This vital document explains the use of words, the effect of stigma, how to address the issues and myths.
Reducing fear and tackling myths
Myth busters on the coronavirus from the World Health Organization (WHO).
These include myths relating to:
hand dryers
ultraviolet lamps
thermal scanners
use of alcohol and chlorine
transmission on letters and packages
safety for pets
other vaccines
antibiotics and existing medicines
age groups
eating garlic and applying sesame oil
The WHO provides downloadable graphics to use in digital and print communications correcting misinformation which is currently circulating on these topics.
One of its key messages is to encourage: "People of all ages to take steps to protect themselves from the virus, for example by following good hand hygiene and good respiratory hygiene."
On 24 April 2020, many agencies stressed strong advice to the public not to try and drink bleach as a way of reducing the effects of coronavirus.
Other myths have included using chlorine.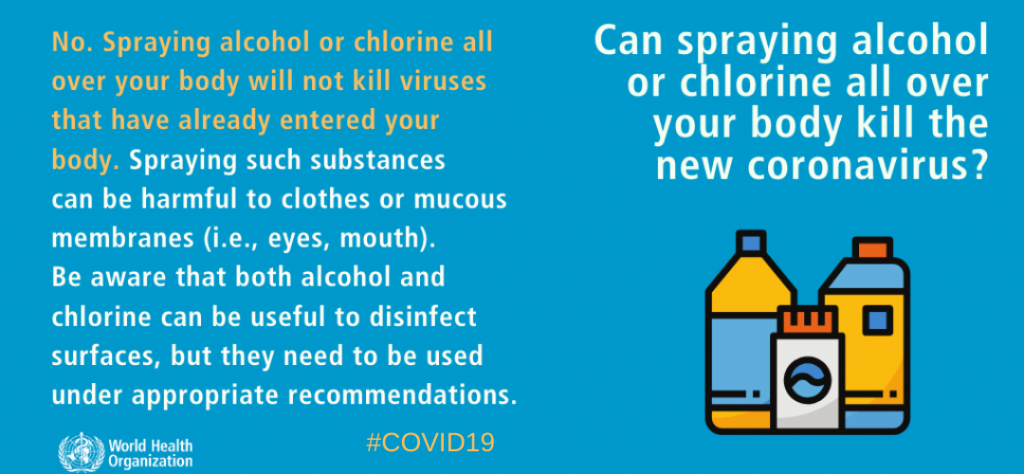 The WHO has warned against an 'infodemic'.
Article on Axios about the threat
Central web network launched
It has created a website EPI-WIN – the WHO information network for epidemics. It is aimed at giving 'everyone access to timely, accurate, and easy-to-understand advice and information from trusted sources on public health events and outbreaks', according to WHO. It is focused at this time on COVID-19.
The site is broken down by audiences: individuals and communities, travel and tourism, health sector, employers and workers, faith-based organisations and leaders, large event organisers, food and agricultural sectors, member states, and cities and local governments.
The information is available in a number of different languages.
Council of Europe on COVID-19
A number of videos on the virus, bringing together reports within Europe.
AI and the control of COVID-19
Easy to read and accessible guidance
UK
Coronavirus information leaflet (7April 2020) – this gives information on what to do to help stop the spread of coronavirus, including information on symptoms and government support. In addition, large print and multi-language versions available on this page.
Easy Read guide to looking after your feelings and body during the coronavirus outbreak, PHE,31 March 2020 (PDF, opens in new window)
Easy Read version on coronavirus, PHE (PDF, opens in new window) – updated March 2020
Easy Read clinical guide for staff supporting patients with a learning disability, autism, or both, NHS England (PDF, opens in a new window)
Easy Read advice on coronavirus, NHS Inform, Scotland – regularly updated versions are added to its page.
Easy Read information on coronavirus in Welsh, PH Wales (PDF, opens in a new window)
Easy Read and more translated versions of the public health guidance published, 20 March 2020
Stay at home guidance in graph table form, 20 March 2020 (PDF, opens in new window)
Mencap's website has an Easy Read document on coronavirus (PDF, opens in a new window)
Sign language versions of information
British Sign Language (BSL) versions of Gov.uk announcements (Signhealth charity). Coronavirus Daily updates delivered by the Prime Minister will include the provision of a sign language interpreter on channel BBC 107 or 231.
NHS 111 BSL Service is open 24/7 to enable individuals who need to use British Sign Language to communicate with the online assistance.
Irish Sign Language version information about coronavirus (COVID-19), British Deaf Association (Link to Vimeo)
Subtitled versions
How to protect yourself against COVID-19 (March 2020, WHO) – subtitled video
Social tools to help information flow
SMS
Various governments and public health bodies are using SMS services through mobile phone providers or key associations to help share stay at home messages.
In the UK, the central government has worked with mobile phone providers to issue the latest stay at home guidance to users' devices (launched on 24 March 2020). Coronavirus advice via SMS messages
Facebook and WhatsApp
Social media graphics from WHO on COVID-19 – including myth busters, home care, stay home, workplace safety and more.
The World Health Organization is bringing COVID-19 factors to billions via the WhatsApp, an online, instant messaging tool. (19 March 2020).
The WHO release states: "The service can be accessed through a link that opens a conversation on WhatsApp. Users can simply type "hi" to activate the conversation, prompting a menu of options that can help answer their questions about COVID-19." The application uses machine learning technology.
The UK Department of Health and Social Care is also using WhatsApp to help spread the stay at home and isolation messages (22 March 2020).
Facebook has linked in with the NHS, WHO and other public bodies to promote 'accurate health information' about the virus. The guide also gives examples of the existing Facebook tools community administrators can use to help tackle comments giving misinformation. It includes a section from the WHO on managing anxiety and stigma.
Facebook is also giving advice on setting up social learning units to help community pages direct their followers to information from WHO and other official sources.
Twitter
To help deal with the level of misinformation, Twitter and Facebook are directing users searching for the coronavirus to official public health social channels, such as, the Department of Health and Social Care, and the NHS.
Instagram
The WHO and NHS are also making wide use of Instagram as part of the public awareness campaign.
The platform has also made changes to counter the level of misinformation circulating(24 March 2020). Users searching for coronavirus or COVID-19 will be directed to an educational message and links to WHO and local health departments.
It is also removing COVID-19 accounts from the recommendations list unless they are posted by a 'credible' health organization.
Users and communicators will be able to create a shared story to encourage others to social distance and to share a 'Stay Home' sticker.
There will be a new way to browse Instagram with friends using video chat.
TikTok
The WHO communicators and design team created video materials specifically designed for the TikTok, a social platform for short form video. WHO's TikTok channelincludes videos discussing measures people can take to protect their own health and steps to take before putting on a mask. This communications approach aims to tackle fake stories.
TikTok has created a 'stay at home' message to help official public health agencies (29 March 2020). It says it is prioritising videos from official sources.
The Department of Health and Social Care has partnered with TikTok and Dr Alex George to share handwashing tips. (30/3/2020). Dr George works for A&E in the Lewisham and Greenwich NHS Trust, in London.
Canva
The online graphics creation platform has produced resources which can be shared and adapted by communicators and community groups for print, web or social. It has worked with the WHO to produce the templates. Many organisations are finding templates like this useful for their internal communications too.
It is encouraging existing and new users to "share accurate information from the World Health Organization and spread messages of support to your community, here are some resources that can help during this tough time.'
Google
Google is providing users with official key links to help them navigate through the amount of information being published.
SHARE – evaluate information before sharing
In the UK, you can report misinformation on the SHARE CHECKIST website run by the Cabinet Office https://sharechecklist.gov.uk/
In its advice to the public, the Government reminds the public: "Just because a story appears online, doesn't make it true. The internet is great, but it can also be used to spread disinformation in the form of misleading news and content." The site features a SHARE checklist which can be used to evaluate information before individuals share, like or comment on it.
Source
Headline
Analyse
Retouched
Error
The site also has includes tools, games and websites to help the public better understand and spot disinformation.
Sharechecklist.gov.uk
Submit fake news to inquiry
Communicators can play a role in encouraging their communities and the public to send fake news to the Online Harms and Disinformation Inquiry. The Inquiry's call for evidence opened on 25 March and will close for submissions on 20 April 2020. It will look at disinformation and misinformation on the coronavirus and COVID-19.
The Department of Digital, Culture, Media and Sport Sub-Committee on Online Harms and Disinformation will ask Government and social media how they're tackling deliberate attempts to present false narratives on COVID-19 when the House of Commons returns.
The call for evidence is open until Monday 20 April 2020.
https://committees.parliament.uk/work/232/online-harms-and-disinformation
New UK unit to reduce effect of misinformation
The UK Government has set up a 'counter disinformation unit'. It will have representation from different departments across Whitehall to identify and respond to disinformation about COVID-19. It will work with social media organisations to try and tackle the spread of disinformation.
Official public health information sources on coronavirus
UK
Public health advice
Public Health England's resource centre for coronavirus can help communications and leadership teams in the public sector with posters and a quick reference guide.
The materials have been created to support communications with the general public. The PHE resources align with the national public information campaign that is running across the United Kingdom.
The quick start guide includes suggested copy from PHE to accompany the social media assets.
Communications teams should share links to the material in the resource centre rather than individual downloads. This will help find the most up to date versions of information on public sector websites.
Coronavirus public health poster – you can download this for offices or link shared (the PDF file of the poster issued on 3/2/20 will open in a new window)
Public health information video on the Coronavirus from the UK's Department of Health and Social Care.
The direct link to this video hosted on YouTube.
This UK Government's awareness campaign includes direct briefings from NHS health leaders in addition to the PM and Secretaries of State providing regular updates. It is the first time, the UK public members can watch advice in TV adverts featuring Chief Medical Officer Professor Chris Whitty and initially voiced by actor Mark Strong (announced on 15 March 202). They were part of the Government's drive to "ensure everyone knows the best way to limit and delay the spread of the COVID-19".
As part of the campaign, more public health resources are available for council and trust internal and external websites. The campaign advice is featuring in newspapers and magazines, on drive-time radio, online and through social media. The advice also features on billboards and large digital displays, including at bus stops.
Public Health England (PHE) leads the response to new and emerging threats to health for all four nations of the UK and the Crown Dependencies – including the Isle of Man.
Awareness and communication campaign resources for public health from PHE
England
'What is self-isolation and why is it important' post, PHE
Follow Public Health England on Twitter @PHE_uk
Public Health England (PHE) is a Category 1 Responder. It provides specialist advice and support to the emergency services and NHS.
Community-based information microsite on coronavirus relating to health, social care and ambulance services, NHS England (added to resource 31/3/20 – thanks for submitting this as a useful information hub)
Northern Ireland
Public Health Agency Northern Ireland
– Public Health NI section on COVID-19
– Website
– Twitter @PublicHealthNI
Department of Health, Northern Ireland
– section on coronavirus
– website
– Twitter @healthdpt
Health and Social Care Board, Northern Ireland on coronavirus
Website, Twitter @HSCBoard
@GiveBloodNI
31 March 2020: Joint statement following conference call discussing coronavirus on the island of Ireland. The Secretary of State for Northern Ireland, Brandon Lewis and the Tánaiste, Simon Coveney jointly chaired the meeting with the First Minister Arlene Foster, deputy First Minister Michelle O'Neill, Health Minister Robin Swann and Minister for Health Simon Harris all participating. Link from the Northern Ireland Office.
Scotland
Follow @ScotGovHealth on Twitter
Health Protection Scotland on COVID-19 including guidance specific to Scotland
NHS Inform Scotland – section on coronavirus (COVID-19)
NHS Inform Scotland self help guide: coronavirus (COVID-19)
Easy Read advice on coronavirus, NHS Inform Scotland – regularly updated versions are added to its page.
Coronavirus advice in BSL, NHS Inform Scotland
Scottish Government page on the coronavirus
Follow on Public Health Wales on Twitter
Public Health Wales information on COVID-19
Public Health Wales statement on COVID-19 cases – updated daily
NHS Wales Coronavirus Symptom Checker
Public information posters, social media assets and videos on coronavirus, Public Health Wales
Welsh Government page on COVID-19
Channel Islands
States of Guernsey information on Severe Acute Respiratory Syndrome Coronavirus 2
States of Guernsey coronavirus latest section – includes helpine, latest status media briefings
Island of Jersey information on coronavirus
Coronavirus health information for Jersey including helpline
Isle of Man
Isle of Man information on the virus and useful links
Worldwide
Public Health, European Commission on COVID-19
Coronavirus website section, European Centre for Disease Prevention and Control (ECDC)
---
Information for employees and employers
Also view the Business Sector section of the LPS Resource
UK Government advice for employers and businesses on coronavirus (this resource is updated regularly)
Full guidance on staying at home (Gov.uk – following PM's evening statement, 23 March 2020)
Advice for employees and employers (ACAS). This includes health and safety steps and reminder not to single out an employee due to race or ethnicity.
Public health and the workplace
The World Health Organization (WHO) has produced a document to help prevent the spread of COVID-19 in workplaces. It focuses on three areas:
How to manage COVID-19 risks when organizing meetings and events
Things to consider when you and your employees travel
Getting your workplace ready in case COVID-19 arrives in your community
WHO's advice on getting workplaces ready for COVID-19 (published 3 March 2020) [PDF opens in new window]
Q&A on COVID-19 in the workplace – subtitled video from WHO (3 March 2020).
UK
How to keep workplaces clean (Gov.uk, 19 March 2020) – aimed at non-healthcare settings
Employers and business public health guidance poster, Gov.uk (PDF opens in a new window)
Data management
If you are requiring home working for staff who have not previously been not set up for this in their normal work, they may need specific with easy to follow information about managing data, device security and any GDPR compliance requirements. Tips to help you provide this are contained in this section.
Use staff intranets to increase employees' confidence in working in different environments. This will also help to reduce additional queries to IT teams which will be under greater pressure with an increase in remote working and supporting high demand to digital channels
Provide staff with HR and other contacts to answer queries on health and safety and staff wellbeing for alternative working arrangements
Set expectations clearly on working hours, response arrangements and communications lines
Provide arrangements for breaks, rotas for monitoring and updating communications channels
Include communications teams in debrief arrangements with other emergency response staff
Make available the organisation's lone or remote working policies with easy tips for shorter term arrangements
The Information Commissioner's Office (ICO) website has an online self assessment to help assess your organisation's compliance with data protection, particularly in relation to mobile and home working, removable media, access controls and malware protection. It can be found half way down its page under the heading 'information security'.
Working from home tips from the CIPD. This includes tips for working remotely, managing remote teams, healthy remote working, effective online meetings, homeworking legal and contractual considerations, further resources.
Online security and reducing risks
Home and mobile working cyber security tips, National Cyber Security Centre (NCSC)
Health and safety for remote workers
Managing remote working, IOSH (PDF, opens in a new window)
Health and Safety Executive, UK
Homeworkers toolbox, Health and Safety Executive (HSE)
Lone workers guidance, Health and Safety Executive (HSE)
Guidance on working environments to support people with disabilities, Health and Safety Executive (HSE)
Communicate with your people
Guidance on communicating with furloughed employees, CIPR Inside (April 2020)
CIPR's Inside group has produced a tip sheet for communicating with employees at times of crisis and particularly during the coronavirus outbreak.Tips for communicating with employees at times of crisis specifically COVID-19 (PDF download is about half way down the page).
Chartered Institute for Personnel Development (CIPD) highlights the need for organisations to communicate with their people, in its statement on the coronavirus. Its top two recommendations focus on communications. It recommends in contingency planning and response, organisations should:
1. Regularly communicate with their people on the steps they are taking to protect staff, as well as on their sick pay and leave policies

2. Do the basics to protect staff such as ensuring they are aware of the latest public health advice, providing hand sanitisers and increasing the frequency and intensity of workplace cleaning
Its factsheet gives advice on "how employers should respond to the threat and support employees" through:
being prepared
looking after employees' health and safety
precautions for employees returning from travel
and developing flexible resourcing plans
The CIPD's factsheet on coronavirus. This was first published on 3 March 2020. It updates this document as UK government guidance evolves.
The CIPD also runs a regular session on Twitter. Take part using the hashtag #AskTheCIPD
Contact tracing
Please visit our section on this in our AI resource area.
ECDC infographic on COVID-19 contact tracing. Published 20 April 2020
Privacy issues
Amnesty International article on contact tracing apps being a test for privacy in Europe. Published 24 April 2020. It warns: "…yet without proper scrutiny, these tools have the potential to fundamentally alter the future of privacy and other human rights. In tackling the pandemic, we must avoid Europe sleepwalking into a permanent expanded surveillance state."

More than 100 rights groups, including Amnesty International, have produced conditions to be met when introducing increased digital surveillance to address the pandemic.
Privacy-preserving contact tracing – exposure notification system: description and specifications from Apple. The partnership with Google focused on using Bluetooth technology to help 'governments and health agencies reduce the spread of the virus, with user privacy and security central to the design.'
Google's blog on the app (10 April 2020)
TechCrunch article on the Apple and Google versions of the Contact Tracing App. Published 13 April 2020.
Tortoise Journalism reviewed the privacy settings of contact tracing apps
---
Wellbeing
Please visit the Wellbeing during COVID-19 page.