Reducing fear and tackling myths
Myth busters on the coronavirus from the World Health Organization (WHO).
These include myths relating to:
hand dryers
ultraviolet lamps
thermal scanners
use of alcohol and chlorine
transmission on letters and packages
safety for pets
other vaccines
antibiotics and existing medicines
age groups
eating garlic and applying sesame oil
The WHO provides downloadable graphics to use in digital and print communications correcting misinformation which is currently circulating on these topics.
One of its key messages is to encourage: "People of all ages to take steps to protect themselves from the virus, for example by following good hand hygiene and good respiratory hygiene."
On 24 April 2020, many agencies stressed strong advice to the public not to try and drink bleach as a way of reducing the effects of coronavirus.
Other myths have included using chlorine.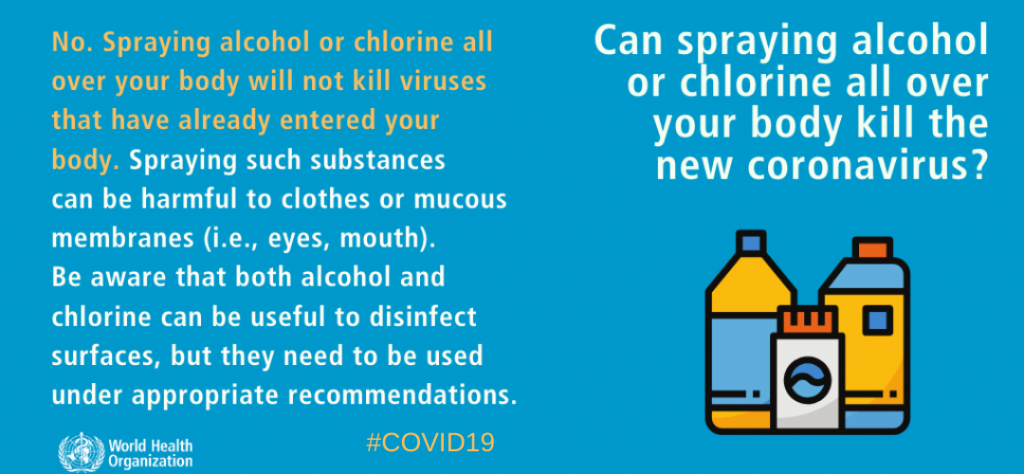 The WHO has warned against an 'infodemic'.
Article on Axios about the threat
Research projects into misinformation
A new research project from the Reuters Institute will examine how the British public receive their information on COVID-19.. Funded initially for eight months, it will "analyse how the British public navigates information and misinformation about coronavirus and how the government and other institutions are responding to the pandemic."
It will be funded by The Nuffield Foundation and involves amongst others the University of Liverpool and the Oxford Internet Institute. The research announcement. Its project advisory board includes representatives from the Winton Centre for Risk and Evidence Communication at the University of Cambridge, OFCOM's Making Sense of the Media Project, the Nuffield Foundation and Full Fact.
According to the initial scope of the project, it will explore and analyse four main questions. It lists these as:
How people find information about coronavirus and about responses to it
What sources of information they find the most credible, and whether they are concerned about misinformation
How knowledgeable people are about basic facts about the virus
How people are responding to the pandemic on the basis of this information
(quoting from the Reuter's announcement)
This will prove to be useful reading for all involved in communicating public health information. The study will publish reports on the Reuters Institute website after every phase to help aid wider understanding.
How the public gets information about COVID-19 – study April to December 2020.
Navigating the 'infodemic' article, published 15 April 2020. This explores 'how people in 'six countries access and rate information about coronavirus'.
Fact sheet on the types of COVID-19 misinformation – Reuters Institute
The latest research project by the Reuters Institute will complement the work on misinformation in science and media which began in 2017. That research involves the Oxford Internet Institute and the Reuters Institute for the Study of Journalism. It examined the 'interplay between misinformation campaigns, news coverage, and platform companies in public understanding of science and technological innovation.'